Solutions And Products
Get Disposable Rfid Wristbands from Supplier in China
Send Inquiry

Unit price:US$0.14-US$0.3
Disposable Rfid Wristbands Are The Future Way Ahead
Disposable RFID Wristbands are broadly used in celebration, occasions, parties, healing facility, and so forth. Going from the Disposable RFID Wristbands, through to our Plastic, Vinyl alternatives. Adjusting RFID innovation to a security wristband. Mostly utilizing 13.56MHz and 860~960MHz recurrence RFID trim following within plastic, these disposable rfid wristbands will be more aggressive and simple for wearing. RFID One Time Wristbands are ecological with paper and PVC material. With available innovation ending up more vital in regular daily existence these paper RFID wristbands give straightforward entry to occasions, shows, games and that's only the tip of the iceberg. We at www.zdcardtech.com provide the best disposable RFID wristbands to our customers.
Utilized inside the Education, Events, Leisure and Health divisions these wrist groups can be utilized for contactless access control, cashless distributing, locker access, enrollment and that's only the tip of the iceberg. This RFID wristband can be put to complex uses at gatherings or in the medicinal services industry. Our disposable RFID wristband is the best to use.
Duplicates of the wristband can be given to members, which will then be perused or investigated by RFID peruses introduced at the occasion setting. Utilized in this mold, disposable RFID wristbands are colossally valuable in occasion administration, appropriate from directing access to guests to streamlining swarm administration and marking at the gathering scene. In the human services industry disposable RFID wristband guarantees to be sheltered and advantageous and can be utilized to track and confirm patients, from newly conceived children to seniors or those needing escalated care.
RFID wristband can be widely applied in music festival, swimming pool, theme park, marathon, hospital management, membership management and loyalty program and access control management etc. Besides, ZDCARD provides programming and encoding services which exactly fit customer¡¯s programming or encoding requirements.
Advantages of Woven RFID wristbands

100% High quality and high security, strict QC system, Twice QC lines arranged before delivering

RFID Woven/Fabric Wristbands

Soft, convenience wearing,

Easy to wear, easy to use.

Variety of styles and colors to choose from

Can add card number and delete card number as your requirement.

Supplier since 2000
Paraments of RFID Woven wristbands

Commonly Used Size

PVC Card Tag: 40*25mm; 43*27mm; 35*26mm; 40*20mm or any customized size




Woven/Fabric Stripe:Length: 350mm or as request; Width: 15mm or as request.

Material

Central RFID TAG:PVC/ ABS / PET/ Epoxy/ Copper paper/ High glossy photo paper/, etc.

Stripe: Woven/ Fabric

Antenna Material

Aluminum /Copper Antenna

Color
Red, Blue, Black, Purple, Orange, Yellow, or in customized color.
Craft Available:

ID/ Data encoding/ Programing, UID number printing,Digital number, Laser code, Thermal number, Hot-stamping with golden color /silver color, Barcode
Application of nfc woven wristbands
1. Public transportation: Hotel Lock,Bus Card,Highway,City Card,Membership Systems.

2. Access management: Campus Card,Working Card,Access Card,Residence permits,Parking Card.

3. Identity: Credit Card,Personal Information Card.
4. Tracking: Logistic management,Asset management,Product Management,Warehouse Management,Production Control,Vehicle Management.

5. Event ticketing.
6. Gaming,Swiming Pools,Water Patrol,Extremly Humid Environment
Chip available for woven wristbands
ISO Standard

14443A, 15693, 18000-2, 18000-6C

Frequency

13.56MHz, 125KHz, 860 ~960MHz

Chip

HF: Mifare 1K S50/Mifare 4k S70 / Mifare Ultralight / Mifare Desfire, NTAG 203 Icode SLI, etc.

LF: TK4100, EM4200, T5577. etc.

UHF: Alien H3

Read range

1CM-3CM (LF)/1-7cm (HF) / 20CM-1M (UHF) (Relative with the antenna size and reader¡¯s power)
MORE IMAGES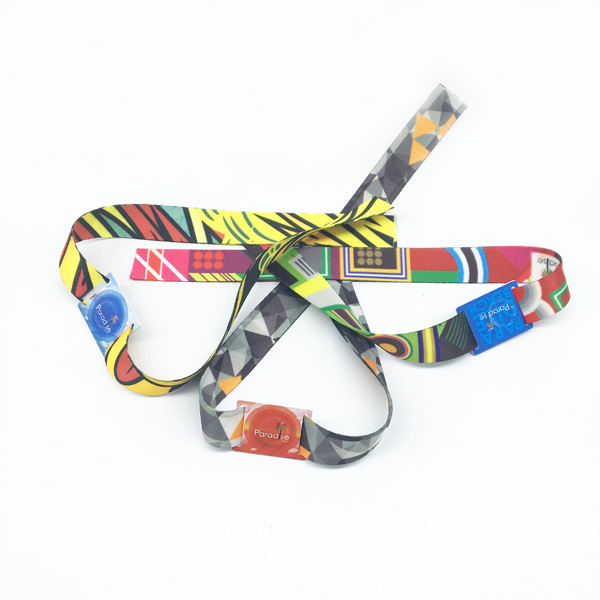 CRAFT
Contact Us
Got a question? We'd love to hear from you.
Send us a message and we'll get in touch with you as soon as possible
Questions? Get in Touch Here!
Got a question? We'd love to hear from you. Send us a message and we'll get in touch with you as soon as possible.